OFA clearancesATOM - Ch. Wychway's U Can't Beet Me MT      OFA Good, Elbows Clear, Cardiac Clear (ultrasound), DM normal

Atom came back to us at age 4 with some major health issues.......heartworm, lungworm, sinus worms,and several other parasites as well as being more than 30 pounds underweight. Although his former owners loved him, love is not enough....basic preventative care is necessary too. After many months of treatment, he is slowly recovering, although permanent damage was done to his heart and lungs. Luckily, this isn't genetic and he has passed his OFA clearances, including a ultrasound heart check. Atom has gained weight and is now being selectively shown. He is learning to trail, even though the sinus damage gives him some trouble, we do expect him to be able to complete at the sport level of trailing. Renee has done an amazing job at bringing this boy back and we hope to see him continue to thrive.
 
Atom got his Championship in very limited showing, including a group placement out of the classes over specials. He has fully recovered and we are planning to collect him for future use. Although he will never enjoy showing, he loves to trail and is currently pursuing his MTI

Atom was bred to Sweethearts Nosey Rosie in May 2016, and we are looking forward to seeing the babies in July!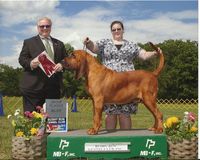 OFA Hips Fair OFA Elbows Clear OFA Cardiac Clear PennHipp 0.32/0.29 CHIC #33632 OFA cardiac Clear PennHIP

OFA hips Good Elbows Clear Cardiac Clear Pennhip 0.24/0.24

OFA Good OFA Elbows and Cardiac Clear, DM clear Passing CHIC #51398

OFA hips Good Elbows Clear Cardiac Clear Pennhip 0.24/0.24