Maxine - GCh Ch Wychway's Rockin' The Tiara RN, BN, CGCA
 
Maxine was the last puppy born of the "Royal 7". She was a stand out from the start, worming her way into or hearts. She now has titles on both ends of her name. 

As of Spring 2017, she has finished her championship and is about halfway to her Grand with all her majors and champions defeated. We are taking our time laying a proper foundation for obedience and hope to debut in fall 2017. Maxine is certainly a reminder of be careful what you name them, they DO become it!  
Grand Championship achieved with a BOB win at the Ohio Hound Specialty weekend!
We took her to Canada for fun and she came home with a total of 6 points toward her championship...wow!!
She got her RN and her BN in 3 shows and is currently working on her CD...she's tracking right now rather than trailing (she likes the precision) so we'll be working on those titles after her vacation in the whelping box in 2018

Maxine was taken from us too soon. A pulmonary embolisim on May 6th, stole her from us. Her legacy lives on in her pups, but our hearts are broken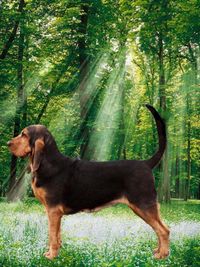 2015/9/10
Royals litter OFA Excellent, Elbows clear, cardiac Clear echo
Mason Ol Bay The Terminatrix

CH Sherick's Talbot Nose Best CD

Sherick's Red Hot Razberry T

OFA # 112 Born 6/6/74 Produced the first bloodhound frozen sperm litter in 1986

OFA Good hips OFA elbows clear Cardiac Clear CHIC (B&T (full coat)

OFA hips Good OFA Elbows Clear OFA cardiac clear PennHIP

OFA hips Good Elbows Clear Cardiac Clear Pennhip 0.24/0.24