Ch Wychway's The Beech Hideaway, RE, MT, BN, WDHOF
OFA Hips Excellent          PennHIP
OFA Elbows and Cardiac Clear          CHIC #



Buddy went at 10 weeks to live in his new home in PA. He was the first in the litter to achieve his American Championship, all owner handled. They started him on obedience and he was being prepared to become a Junior Showmanship dog when things suddenly changed in the human household.. As a result his life went through an upheaveal and he ended up coming back to live with us. at age 3.  About 6 months after he arrived, we discovered that he was suffering from Copper Toxicosis.....causes unknown, but we suspect that he got ahold of a horse hoof shaving at his former home that had been treated with Coppertox (gets rid of Thrush in stable horses). 4 years later, his liver enzymes  were nearly normal, and the side effect of the copper poisoning are gradually disappearing.


Alas, Buddy left us on 2/3/13 at age 11 and 8 1/2 months. He is missed. We have frozen sperm though and, someday, there will be Buddy puppies. I can't wait!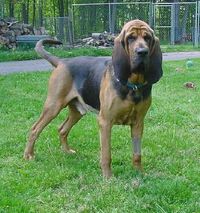 OFA Excellent hips OFA Elbows OFA Cardiac CHIC PennHIP
OFA hips Good Elbows Clear Cardiac Clear Pennhip 0.24/0.24

Manor's Lily of the Valley

Hylbillie's Hynes of Shagbark