SAM - GCH Wychway-Noir's Play It Again CD, RA, RN, MTI CHIC

  This full coat black boy is my "unicorn"...that rare combination of beauty, brains and temperment that makes him everything I dreamed of from this breeding. A quick learner, and a solid worker, I am looking forward to his specials career and to playing in the performance arenas. Pennhipp scores were 0.31/0.33 and OFA's are Hips Good, Elbows clear, he is DM clear by parentage and Cardiac clear, and a proven sire. 

Sam was bred to a Finnish bitch in the summer of 2015  and we are thrilled at how well the pups have done. Multiple European Group placements, a Finnish Bloodhound Specialty win, multiple trailing titles and some darn nice pups!
He was bred to Nim to produce our 2016 "Nuts" litter, producing trailing and show winners as well as excellent companions
In 2018, he was bred to a Canadian bitch and we are excited to see how those puppies will turn out. 
Future litters are possible...stay tuned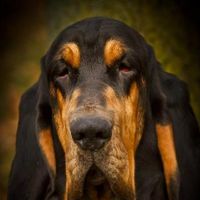 2011/6/23
Cardiac Echo clear, DM clear by parentage, OFA Hips Good, Elbows Normal
OFA # 112 Born 6/6/74 Produced the first bloodhound frozen sperm litter in 1986

OFA Good hips OFA elbows clear Cardiac Clear CHIC (B&T (full coat)

OFA hips Good OFA Elbows Clear OFA cardiac clear PennHIP

OFA hips Good Elbows Clear Cardiac Clear Pennhip 0.24/0.24